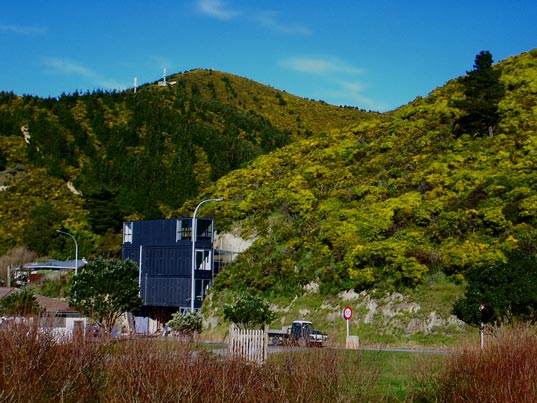 When you can't build out.. you build up! This fantastic shipping container home in Wellington has made perfect use of its surroundings and built vertically, using shipping containers, up a cliff face. Ross Stevens, an Industrial Design lecturer at Victoria University and the constructor of this beautiful accomodation space, has reused materials to create a one of a kind shipping container house, that shows off the shipping containers' versatility, simplicity and ease of customisation – not to mention a great advertisement of how economical they are to build with. Simply made, by making use of the containers corner casts' to ultimately create a vertical garden of containers, this home has become a lovely architectural delight in its own right.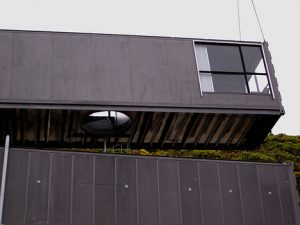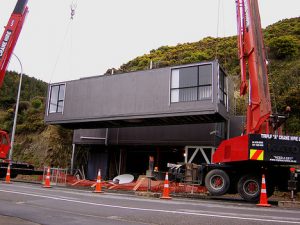 This is definitely the latest in industrial-chic accomodation, and the three slate grey forty foot containers stack up like building blocks alongside the mountain backdrop, showing a lovely balance of engineering and modernism versus the natural, luscious green landscape. The durability of the containers mean they will last the test of time – and be earthquake-proof, even stacked three high. Repurposing them this way only stands to made them more ecologically sustainable, their construction and modification options make them available to anyone who wishes to use them – especially for building vertically.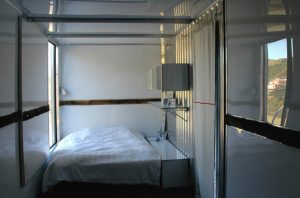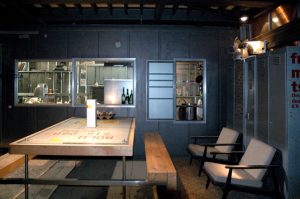 Building vertically gives not only the chance of longer views (especially important if building near water), but also the opportunity to merge the interior housing with the exterior of the environment, like this space, with the open terraces to create a more natural feel for the overly modern container use. So if you've only got enough space on your block for a small terrace, or don't want to intervene with the landscape or demolish it, why not think about using shipping containers for your next build? And remember – build it up!