Kerikeri is rich with history, nature, specialty food products, lush vineyards, art galleries, cafes, and crafts making it a number one tourist destination. It is the largest northern town, located north of Auckland and Whangarei.
Established by the first mission station in New Zealand, it has plenty of historic buildings and churches. With an abundance of fishing areas including fishing charters that have fish such as;
Trevally
Kingfish
Kahawai
Snapper
Sharks
You can certainly find a good place to enjoy a day of catching some of the most thrilling fish you have ever had on your hook.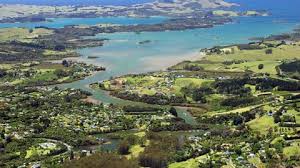 If fishing is not for you then maybe you would enjoy a day on horseback. Riding through some of the most beautiful scenic countryside you will enjoy the forest and farmland from volcano to sea. Kerikeri has a shipping container depot where containers can be hired or purchased. These containers can be used for so many things including;
Accommodations
Business needs of additions and storage
Storage
Workshops
The list could be extremely since there are so many ways to utilize modified shipping containers.
Why use recycled shipping containers?
Using recycled shipping containers is very eco-friendly since they are kept out of landfills while filling a need for construction, additions, storage, and more. You are probably thinking how in the world a shipping container as a home or commercial shop could not stand out in the rest of the architecture throughout the community.
The fact is that once they are recycled to the customer's specifications; therefore, a commercial building made of shipping containers can be painted and trimmed to fit the neighborhood it is in.
Altering a shipping container for use
The altering is done in such a way that it is hard to see the difference most times. It starts with sandblasting and painting both inside and out which requires special paint and then special insulation to help manage climate control. Each container also needs wiring and plumbing correctly installed.
Then the walls interior walls can bet put up in order to form walls for rooms or offices or even retail space.
Space-saving container architecture
Since the shipping containers can be stacked to make larger spaces and multiple floors that are structurally sound and safe.
That space saving is a good way to help the environment remain safe and keep the land available for the growth of trees and crops which not only provide food but oxygen and use CO2 as their own food depleting it from the air we breathe.
These container accommodations also are harder to break into making them safer from crime, stand up better to heavy damaging winds from storms, and catch fire less easily; possibly lowering the cost of homeowner or business insurance.
Kerikeri has so many things to offer its community and visitors, as well as having at least one depot to hire or purchase shipping containers that can be refurbished and altered to fit the need of the individual purchasing it.