Tauranga is the most populated city in New Zealand's North Island; as of 2016, the urban population was 134,400. Tauranga was settled between 1826 and 1838 by ships obtaining supplies in 1826 and 1827, a Christian minister also held a service at Tauranga Harbour. In 1835 a mission station was created at Tauranga.
Tauranga transportation keeps things and people moving in the city with air, rail, roads, and a port. There is around 530 km of roads, 700 km of footpaths, cycle ways, and access ways in order to keep residents and tourists moving and exploring Tauranga. The airport brings in and takes out both people and cargo of supplies and goods to keep the city and surrounding areas producing goods, feeding people, etc.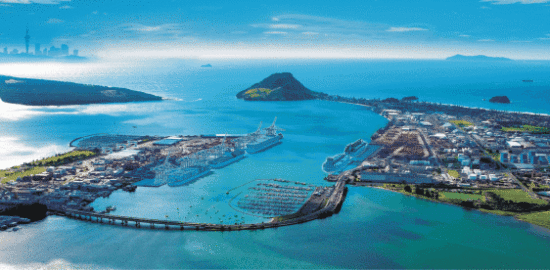 Port of Tauranga NZ
The Port of Tauranga is found in a geographical harbour safeguarded by a mountain and an island. It is the only geographical harbour between Auckland and Wellington that offers good cover in all weather. When it comes to moving goods, this port moves volumes exceeding 950,000 TEU's just in container output.
The facilities have 15 berths, 12 of which are used for general cargos like wood, coal, or other general merchandise. The other 3 are located at the Tauranga Terminal which does containers, including refrigerated freight; as well as, two stores for cold and just over 24,000 square meters of covered storage.
The port also has available 5 container cranes to offload and load cargo containers onto ships. The container area has 27 hectares of container yard that has been paved for Tauranga shipping containers. There is also a tanker berth where dangerous goods such as oil, gas, and other chemicals can be transported. There is also 90 hectares of land set aside for future enhancements of new and updated facilities and storage in the port of Tauranga Metroport.
What else does Tauranga offer?
For visitors and even residents, Tauranga offers many activities and places to see. Some of the things to do and see are;
Water; Mount Hot Pools, Waimarino Adventure Park, charter a boat or jet ski, Fishing, Sailing, kayaking, surfing and much more
In the air; Skydiving, take a scenic tour by helicopter
On the ground; hiking, cycling, golfing, and more
Shopping –downtown, and village centres
Art galleries
History –museums, historic village, and more
Food includes waterfront dining, Mexican, Indian, as well as many little cafes and bars including a craft beer pub.
Accommodations include motel/hotel, camping, apartments, and B&Bs.
Tauranga's future
Tauranga's future looks bright with plenty of room for port expansion, tourist's areas of shopping, art, history, and activities going on, and plenty of food experiences.
Tauranga is the most populated city in the North Island of NZ; great for tourists, and is a large shipping port transporting all kinds of goods to other areas and bringing in goods to the area. With plenty of room for the port to expand, the port will have a long future. Planning your next vacation with the family and kids? Come join us in Tauranga!