Ruakaka NZ has several amenities such as beaches, squash courts, sports grounds, several holiday parks, and a rare bird reserve. This area saw growth during the 1980s during the Marsden Point Oil Refinery expansion. The climate is a warm humid summer and mild winter which makes it perfect for family fun.
Ruakaka Beach Holiday Park provides family camping in a beautiful setting. There are cabins along with communal areas for cooking, laundry, showers, and toilets. You may also bring your own gas grill to use in the area outside of your cabin.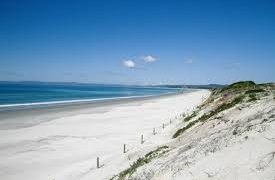 Shipping container engineering
Ruakaka would be a good place to use refurbished shipping containers to make accommodations. With container engineering, the containers can easily be turned into bathrooms, showers, kitchens, and more for the camp area.
By stacking the shipping containers the area would be left with fewer carbon footprints, allowing the wildlife and natural beauty to flourish.
Shipping container buildings
You may have already visited a shipping container building without even noticing. These containers have been turned into cafes, retail shops, coin-operated laundries, and much more.
Maybe that bar you visited last night while enjoying the nightlife was made from a recycled shipping container.
Our maybe the market you stopped by for supplies on your way to the camping ground, you would be surprised to know that some of the homes and businesses you see are actually shipping container buildings.
Why are people using containers to create buildings?
There are several reasons people use shipping containers in order to make buildings.
They are structurally sound and safe
Harder to break into
Environmentally friendly
Ease of adding space on with another container which can be stacked or placed side by side original container
Helps the community reduce landfill waste and opens up new small businesses such as cafes, small retail shops, even medical clinics
Ready to move into when they are delivered and placed on foundation since they are renovated to the customer's specifications from the start of the refurbish
Those are just a few options with the refurbished container building that makes them so appealing.
Shipping container bunker
The recycled container can make a great bunker for a natural disaster without using a lot of ground area.
They store food for a natural disaster well, when they have been prepped with the proper insulation and ventilation system.
While these types of bunkers may or may not be the best idea along the beach where flooding or strong winds and waves can come ashore during a hurricane or other natural disaster they can be used inland to help ride out the storm.
Shipping container housing
Again when it comes to natural disasters these containers can provide temporary housing while a community gets back on their feet and helps their neighbors rebuild after a disaster.
If you have not visited Ruakaka NZ, you can do so cheaply with the Ruakaka Beach Holiday Park and who knows you may even find some recycled shipping containers in use as lodging or common buildings in the area.