An important part of getting a shipping container is proper care – and this includes levelling the ground underneath it, before it arrives. If the container will be sitting on soil, any moisture trapped underneath it can rise into the subfloor, creating mould – which means your container won't last as long as it should. Depending on the surface your container will be sitting on, there are certain steps you can take to make sure you get the most of your container.
One of the first things to do is to prepare the site – clear the area you want the container to sit of any trees, branches or debris. Then you need to decide if you need a foundation – and if so, which kind of foundation you want to use. A few different things to take into consideration are:
What the total weight of the container will be (what you're putting in the container);
If the ground is soil, or sand, or what combination of this it is;
The water levels around the area;
If any sanitation or drainage will be required onsite;
Any materials or labourers that might be required;
Any local council by-laws and
Regional climates
There are three common types of foundations: a concrete slab, concrete footings, or wooden footings.
Concrete Slab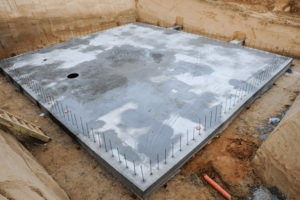 Concrete Footings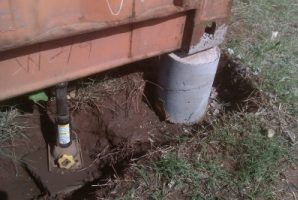 Wooden Beams