Growing in popularity, tiny houses are now popping up all over the planet as people decided to downsize their lives. While the structures oftern measure less than 300 square feet, the tiny house movement isn't necessarily about sacrifice. Through innovative design, some people have discovered the benefits to living in a smaller house: a simple yet fuller life, connecting with friends, family and nature while keeping the major stresses like mortgages and wastefulness at bay.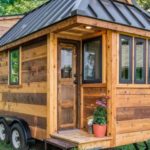 In an age of vast consumerism, more and more people are embracing the minimalist lifestyle – one which adopts a 'less is more' core philosophy in all aspects of living. Those who choose this lifestyle are passionate about things like climate change and sustainable living. Though minimalists often have the opportunity to have more, they realise that having less can potentially bring them more happiness.
Shipping container homes are popular with people who want to live a simpler life. These houses take less time to construct than traditional homes. They're also highly adaptable, and ideal for a variety of different living situations. Here are a few ideas to keep in mind when designing or making a tiny home:
The space – what do you need versus what is necessary
How to fit in furniture – is there space saving furniture you can incorporate?
The electrical, plumbing and all other services if they need to be installed or outsourced.